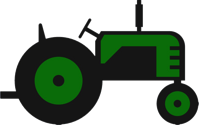 Who are we and how do we differ from others?

• We're a small, rural, family business selling new and used parts for both Ag and home tractors.

* ALL of our prices are discounted from suggested retail. We also look at competing parts from our suppliers and make a choice based on quality and price. If there's money to be saved, YOU get the savings!

* Our normal store hours are 8:30AM to 5PM, Monday through Saturday. However, we live on the property...so, if you have a need on a Sunday, please call us! We've opened the store to sell a $0.50 gasket to a local customer and answered the phone at 8PM on a Sunday evening to offer our free advice. BTW, try THAT with our competitors! :=)

* We offer parts and some services for MOST tractors. We're not restricted to just one brand because you, the customer, probably have more than a single badge in your barn or garage.

* We charge actual shipping ONLY. We normally ship UPS, but if we can save you money by shipping USPS, we will. We never charge handling!

* We almost NEVER drop ship. We've had parts come in from our suppliers damaged. We don't want YOU to put up with that when you receive your critical part. We inspect 100% of what comes in the door...see if the others do that.

* We have MANY years of technical experience. That experience is free to you.